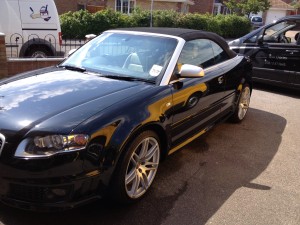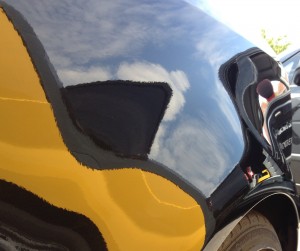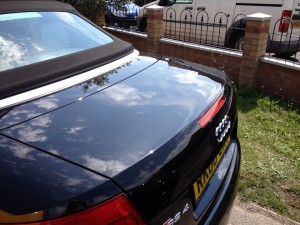 Over time your vehicle's paintwork can lose its shine and lustre.  UV, pollution, road salt, bird droppings and rain all combine to fade and dull the finish.  In addition the surface can become scratched, swirled and "hologrammed" further spoiling the appearance of your vehicle.  Automatic carwash machines are a common cause of such damage.  Plus of course the inevitable scuffs and scratches that seem part and parcel of today's motoring.
These problems are not just unsightly they can also significantly reduce the value of your vehicle.
There are solutions to these problems without the need to resort to a respray.
We use our expertise in a variety of polishing techniques to restore the lustre to your paintwork.
By removing contaminants and small imperfections a truly "showroom" shine can be restored.
The images above show an Audi RS4 which prior to treatment had badly contaminated and swirled paintwork which had lost its shine and felt rough to the touch.  The bodywork was treated with a clay bar, then machine polished and finally had a high quality detailing wax applied to seal in the newly restored finish.
Please contact us in the first instance to arrange an appointment for us to view your vehicle and provide a free, no obligation estimate.